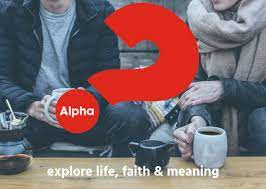 What is Alpha?
Alpha is a chance to ask questions and explore the Christian faith in a fun, no-pressure, informal environment.
Alpha takes place across eleven sessions with the option of a day away in the middle.
No matter where Alpha takes place, the format is the same. We come together,  we listen to a talk and gather together in small groups for discussion.
Who is Alpha for?
Alpha is for everyone and anyone. The beauty of Alpha is that there are no questions that are too hostile, too silly, or too simple. Alpha has no prerequisites whatsoever. We come together with one another as we are, free to be ourselves.
dates and times
Our next Alpha will run In person in the parish hall on Thursday evenings from 7pm-8:30pm.
13th October:      Is there more to life than this?
20th October:   Who is Jesus?
27th October:    Why did Jesus die?
3rd November:     How can I have faith?
10th November:   Why and how should I pray?
17th November:  Why and how do I read the bible?
24th November:  How and why should I tell others?
1st December:     What about the Church?
Alpha Day Away: 19th November
can i bring someone with me?
We would love for you to invite someone you know who is not a regular churchgoer, perhaps someone in your family, or a friend or a neighbour!  No pressure, just come along to the first session and see how it goes.